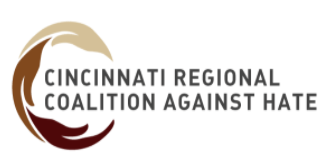 About the Coalition
Charlottesville "Unite the Right" Rally on August 11-12, 2017 organized by white supremacist and neo-Nazi groups.
Two days later, members of the Bridges of Faith Trialogue (now EquaSion) began developing the blueprint for a local coalition.
In April of 2018, the Cincinnati Regional Coalition Against Hate (CRCAH: www.cincinnaticoalition.org) was launched by 19 founding organizations in partnership with the Hamilton County Police Chiefs Association. The Coalition is under the administrative leadership of the Holocaust and Humanity Center.
Mission: promoting intergroup tolerance and renouncing incidents of hate.
Key activities: (1) trusted resource for victims and witnesses of bias and hate, (2) a convener and data collection site for community organizations, and (3) source of expertise and data for law enforcement and media on issues related to hate and bias.
About hate crimes
A hate crime is a traditional offense like murder, arson, or vandalism with an added element of bias. For the purposes of collecting statistics, the FBI has defined a hate crime as a "criminal offense against a person or property motivated in whole or in part by an offender's bias against a race, religion, disability, sexual orientation, ethnicity, gender, or gender identity." Hate itself is not a crime—and the FBI is mindful of protecting freedom of speech and other civil liberties.

Hate crimes account for 36% of all FBI civil rights cases
There has been a 63% increase in hate cases since 2019

Most crimes take the form of intimidation, assault and destruction of property/vandalism.
Breakdown by victim group: Race, ethnicity, ancestry: 60%; Religion: 19% (antisemitism, anti-Muslim, anti-Sikh and anti-Catholic account for 80%); Sexual Orientation: 17%.
Statistics are kept by the FBI (provided by law enforcement agencies), Southern Poverty Law Center, Anti-Defamation League, Council on American Islamic Relations (CAIR), and other advocacy groups.
Cincinnati statistics: 2018 – 30 reported hate crimes; 2017 – 40 reported hate crimes – Cincinnati has the highest per capita rate among Ohio's major cities.